My second book review winner is Emily. See her review below:
The Ordinary Princess
by M.M. Kaye
Reviewed by: Emily Vergaray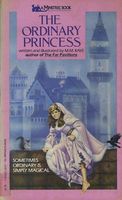 Five Royal Crowns for
The Ordinary Princess
In
The Ordinary Princess
, written by M. M. Kaye, day old Serene Royal Highness, Amethyst Alexandra Augusta Araminra Adelaide Aurelia Anne's life is turned up-side down when one of her many fairy god-mothers, Crustacea, gives her the gift of being ordinary. Years pass and Amethyst becomes more and more ordinary. Her hair turns mousy brown, has a turned up nose, and freckles. She was so ordinary that no prince wanted to marry her, but who would want to marry a stuck-up prince anyway? Running off into the forest sounds like a perfectly good way to spend her life, and as the story continues, an enchanting adventure unfurls itself.
I loved this book because it's fast-paced, romantic story. It's one of those books that you just can't put down about a perfect friendship that turns into a romance. There isn't much that I didn't like about this book. The only thing that would have made it better was if the author continued the story. It would have been nice to hear more about the future of the ordinary princess.
This book is a cheerful, fast-paced, adventurous, funny romance that every one of all ages would like. If you like books like Beastly, then you will love reading
The Ordinary Princess
.